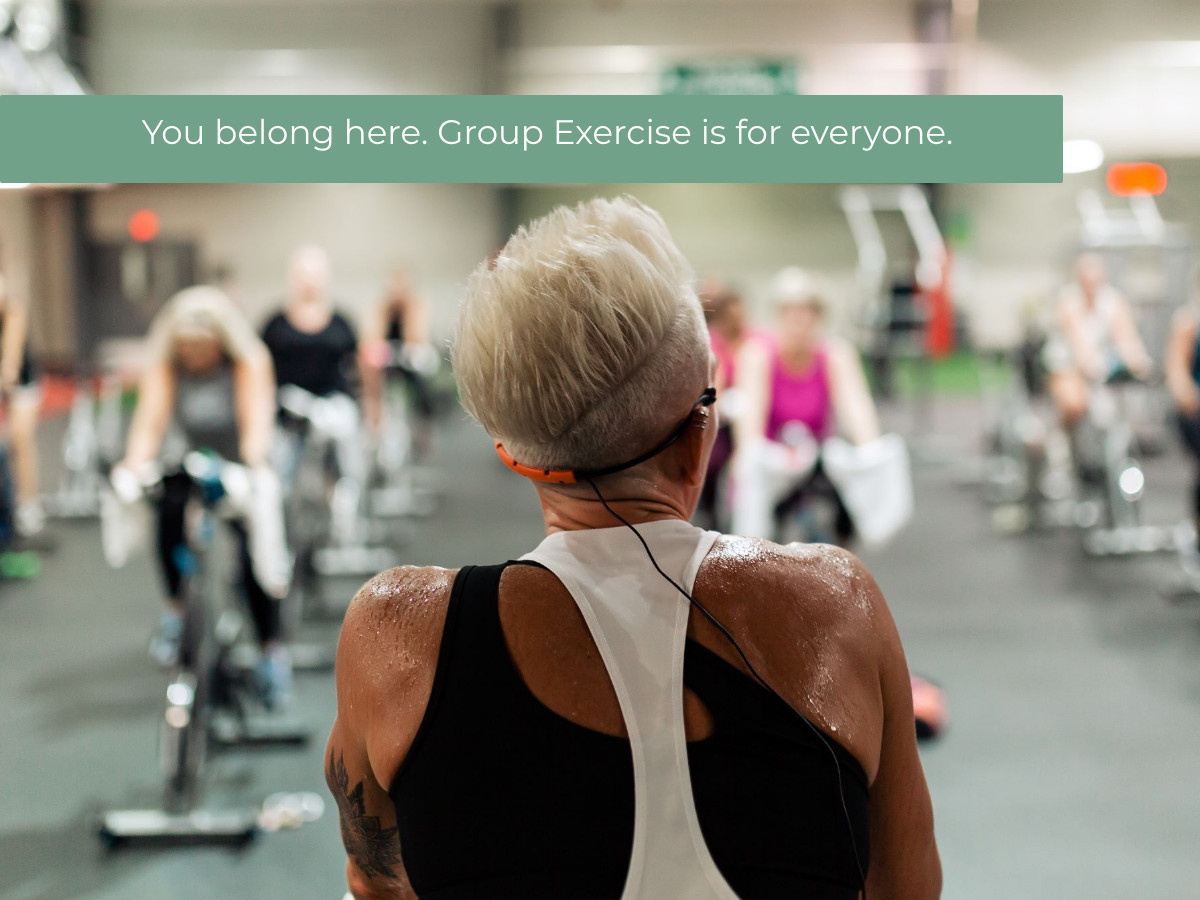 Our spacious group exercise and cycling studios host dozens of weekly group exercise classes, including indoor cycling, weight training, yoga, Zumba®, and more! You're sure to find your place in these classes taught by nationally certified instructors while meeting other like-minded individuals.
Class Descriptions
Core | 25 minutes
25 minutes of core work (abdominals, low back and high glute strengthening moves).
Yoga for Everyone | 30 minutes
Improve strength, balance & flexibility. All levels are welcome.
Power Push | 30 minutes
Work up a sweat with this effective calorie-burning combo utilizing dumbbells & bodyweight! A 30 minute fast-paced class designed to engage all muscle groups. Minimal rest, all out effort.
HIIT the Floor! | 30 minutes
This format offers high intensity interval training to challenge your strength, speed, power and agility! Be ready to hit the floor and push yourself to the max!
Fine Tuning | 45 minutes
Fine-tune every muscle group in your body with endurance-based strength work using body weight, light weights, gliding discs, a Bender ball and versa loops!
360 Strength | 45-60 minutes
Challenge your entire body in this effective, safe & comprehensive strength workout. Dumbbells, bodyweight & more will be used to move your body in all planes of fitness. Get ready to become stronger & test your limits with strength, cardio bursts and core work!

Barre | 45 minutes
This class combines yoga, Pilates, strength training & ballet in specific sequencing patterns and isometric movements that target distinct muscle groups.
Cardio Barre | 45 minutes
Non-stop body sculpting with a dose of heart pumping cardio! This format offers choregraphed strength & cardio sections to offer a total body experience. Bodyweight & dumbbells will be used.
Step Strength | 45 minutes
Get ready to be challenged on and off the step using both weighted and body weight exercises to increase muscular strength, muscular endurance, and your cardiovascular system.
HIGH Fitness | 45 minutes
HIGH Fitness has brought aerobics back in a hip and unique way. Nostalgic and fun music from all decades and genres that will motivate you to the max. You will have a blast with easy-to-follow fitness choreography, and leave this class wanting more because it's so much fun! Take it HIGH or take it low! Options given for all levels of fitness.

Indoor Cycle | 45-50 minutes
Looking for a high-energy low-impact cardio? You'll climb, sprint, and train to incredible music!
Pilates | 45 minutes
This class is designed to strengthen & tone the core of the body while also improving flexibility.

Push it! | 45 minutes
This 45-minute class combines two amazing formats (Power Push and HIIT) to offer a great lunchtime workout! The first 30-minutes will utilize dumbbells and bodyweight to engage all muscle groups. The last 15-minutes will finish off the workout with high intensity interval training. Be ready to push it!

The Grind | 45 minutes
Anything goes in this class geared for intermediate to advanced fitness levels
Unwind | 45 minutes
Come ready to unwind your mind, body and spirit in this gentle, restorative stretch-style yoga format. All levels encouraged.
Zumba® | 45 minutes
This class fuses Latin rhythms & easy to follow moves to create a dynamic fitness program that will get you moving!
Bike then Barre | 50 minutes
Experience a 40 minute challenging ride, followed by a 10 minute Barre finisher series for your lower body using the bike as your barre!